Welcome to Emigrant Funding Corporation (EFC)
Emigrant Funding Corporation (EFC) is a direct portfolio lender specializing in first mortgage financing for most types of owner-occupied and investor-owned commercial real estate. Additionally, EFC through Emigrant Bank is a participating Small Business Administration (SBA) Lender. EFC offers SBA 7(a) Loans and 504 Program. As a subsidiary of Emigrant Bank, a 167-year-old New York savings institution, EFC is able to draw upon the vast resources of its parent to make sure borrowers get the funds they need in a timely fashion.
Small Balance Commercial / Mixed Use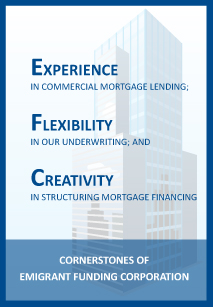 EFC's commercial portfolio guidelines include Purchase, Rate/Term Refinancing and Cash-Out Transactions, Full Documentation Loan Programs and Amortization Periods up to 30 Years. EFC's full suite of programs and products provide financing options for traditional borrowers, as well as foreign nationals, resident aliens and borrowers with low or no credit scores.
Examples of Commercial Real Estate Property Types Include:
Multi-Family (Rentals or Underlying Co-ops)
Mixed-Use (Retail / Office / Residential)
Retail Strips
Owner-Occupied Income Properties (Residential or Commercial)
Commercial Co-op or Condo Units
Condo Act Financing
Office Buildings
Lending Areas: Click here to view a list of state licensing agencies
NY Market*
5 boroughs
Nassau/Suffolk
Westchester/Rockland
Orange & Putnam
NJ/PA/CT Market
New Jersey*
Eastern PA including Philadelphia
Fairfield County, CT* (Other counties may be considered)
New England Market
Eastern Massachusetts including Boston
Florida
Southeast Florida including Miami
Southwest Florida including Tampa
*EFC's Small Business Administration (SBA) lending area
EFC maintains offices in New York (Manhattan, Long Island and Westchester), Massachusetts and Florida. In addition, EFC has Commercial Mortgage Specialists in the field in Brooklyn, Queens, and New Jersey. Our Commercial Mortgage Specialist along with our in-house team of underwriters, appraisers and closers, facilitate prompt decision making and processing of all loan applications.
To obtain a quote complete the Pre-Qualification Worksheet and fax to the Mortgage Specialist in your region or email to campbellr@emigrantmortgage.com. To learn more about EFC Small Balance Commercial / Mixed Use programs and guidelines, contact the Mortgage Specialist in the region that is most convenient for you:
Manhattan
6 East 43rd St.
10th Floor
New York, NY 10017
Tel 212-850-4880
Fax 212-850-4881
Long Island
350 Jericho Tpke
Suite 203
Jericho, NY 11753
Tel 516-822-7482
Fax 516-822-6826
Westchester
7 Westchester Plaza
Elmsford, NY 10523
Tel 914-785-1403
Fax 914-785-1903

Brooklyn/Queens
Tel 917-825-3934
Fax 212-850-3271
New Jersey
Tel 917-825-3934
Fax 212-850-3271
Florida
Tel 786-877-0977
Fax 212-850-3741
Boston
Tel 508-717-9867
Fax 212-850-3870
For e-mail inquires contact Richard Campbell, EFC Production Manager at campbellr@emigrantmortgage.com.